A Revolution in Aesthetic Imaging
oVio360 is the only 360-degree dynamic imaging system for aesthetic practices. The capture process takes 12 seconds and produces 360 high-resolution still images and a video file that allows you to see yourself as you would in real-life. Workflow is extremely simple, both for captures and use and display of the images post-imaging.
About Our Company
oVio Technology
The oVio360 system is the best platform to create living and dynamic images of patients. The camera arm rotates around the patient in 12 seconds or less and creates 360º high-definition images with a 360º video that shows what patients look like in real life.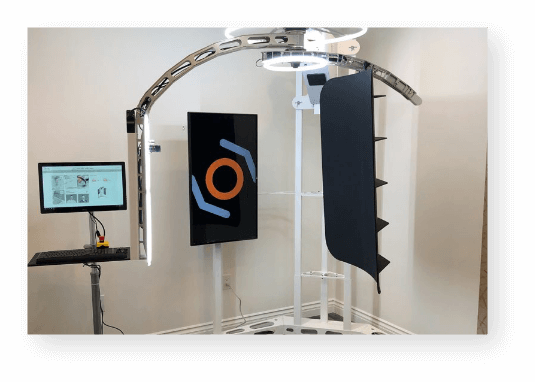 Top Surgeons Discuss oVio360
Your results, our camera, more conversions!
Aesthetics
oVio360's software allows for multiple rotations to be compared side-by-side so that patients will be able to see their results like never before. The unparalleled life-like imaging will let the aesthetic results speak for themselves!
oVio360 + Aesthetics
Plastic Surgery
Before & After photos are one of the most important tools for driving new business and gaining new patients. With oVio360 imaging, professional lighting, and fast technology, getting consistent before and after photos will have never been easier.
oVio360 + Plastic Surgery
Hair Restoration
With an overhead camera and 360 imaging, capture before images that the patient hasn't seen of their own head. Follow-up visits will make for even more impressive results, showcasing new hair growth all over the scalp!
oVio360 + Hair Restoration